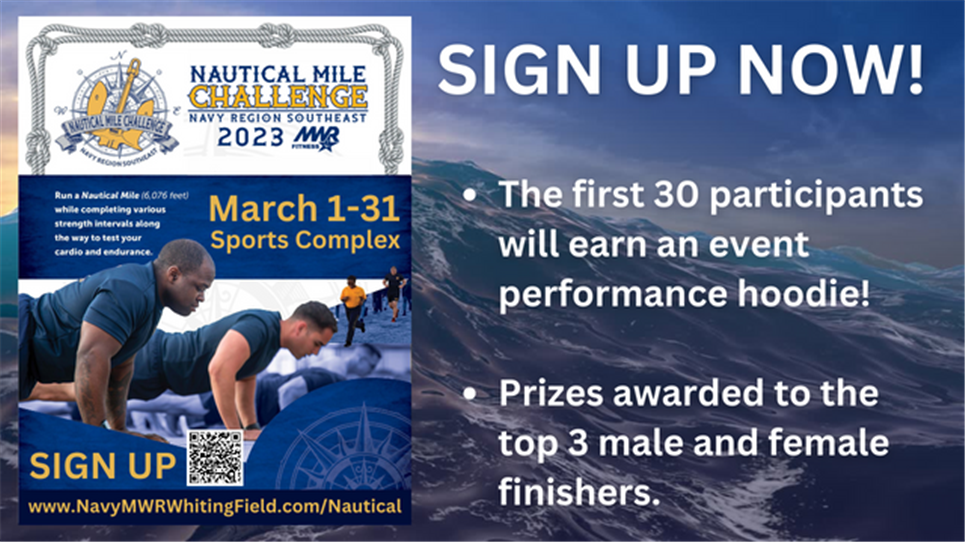 The Navy Nautical Mile Challenge is a timed interval running challenge where the goal is to run a Nautical Mile (6076ft) while completing various exercises along the way to test your cardio and endurance.
SIGN UP AT: "
https://signup.com/client/invitation2/a54ad71734473928ed8467e53f2c89fa9ca11ed5/1154715791523536086/false/#/invitation
FOUR WAY POINTS:
Each week begins a new WAY POINT for this competition -
Compete in one- or all-WAY POINTS for more chances to win!
Way Point One: Wednesday, March 1-7
Way Point Two: Wednesday, March 8-14
Way Point Three: Wednesday, March 15-22
Way Point Four: Wednesday, March 23-31
TEAMS WELCOME:
Fly solo or compete as a team! We have a selection of scheduled times throughout the week available for sign-up. Find a time that works for you or let us know and we can schedule a time for you to complete the challenge.
The event will be month long event. The first 30 participants will earn an event performance hoodie with prizes being awarded to the top 3 male and female finishers.
DOWNLOAD THE POSTER!