== Hours of operation are Monday - Friday, 5:30am to 6:30pm ==
The Child Development Center (CDC), Building 36, is located at 7523 California St. CYP Programs are an inclusive community where children live, learn and play together. CYP Programs offer quality child care in safe and healthy environments on a daily basis. We offer enrichment and development programs for family members of active-duty military and NAS Whiting Field DoD civilians and Contractors on a space available basis. A weekly program is offered for those 6 weeks to 5 years of age. Drop-in care is provided on a space-available basis. This NAEYC-accredited program offers developmentally age-appropriate activities for infants, pre-toddlers, toddlers, and preschoolers year-round. The CDC participates in the USDA Food Program, which serves breakfast, lunch, an afternoon snack and a 'hearty 5pm snack'.
Hourly Care: This program is a short term care option (not to exceed 25 hours in a week or 12 hours in a day) that families can book up to 30 days in advance if space in the child's age group is available. To submit a request for care please visit "https://myffr.navyaims.com/wbwsc/whitcyms.wsc/wbsplash.html?wbp=1".
Parents who cannot find care within our CYP must be registered on https://militarychildcare.com/ and on a waitlist at "https://usa.childcareaware.org/fee-assistancerespite/" to qualify.
"U.S. Navy Child and Youth Programs welcome children/youth of all abilities."
https://militarychildcare.com/: This is our website so that parents can get on the waiting list for military child care.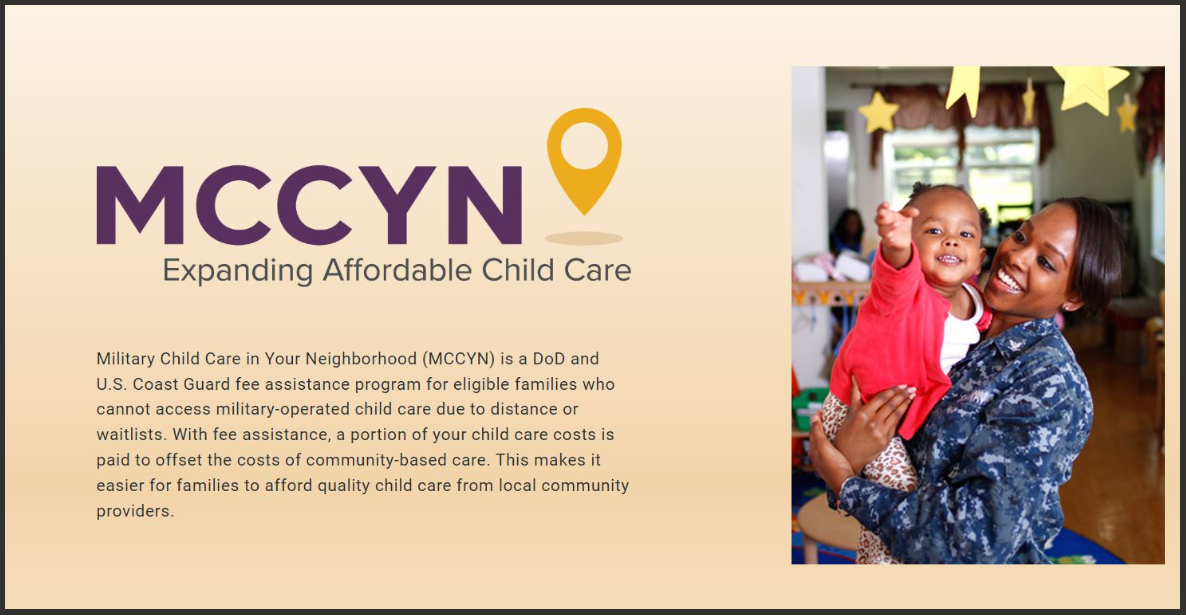 Military Child Care in Your Neighborhood (MCCYN) is a DoD and U.S. Coast Guard fee assistance program for eligible families who cannot access military-operated child care due to distance or waitlists. With fee assistance, a portion of your child care costs is paid to offset the costs of community-based care. This makes it easier for families to afford quality child care from local community providers.

Looking to work with us? When positions are available they are posted on our Jobs page.