Swimming Pool
Three Minutes is all it takes ... Online Aquatics Feedback: "https://www.surveymonkey.com/r/AquaticsWhitingField".
===== ===== =====
The Olympic-size pool, Building 1452A, is located on the corner of Yorktown Street and Saratoga Street and is attached to the Fitness Center. To get to the pool, please enter through the Fitness Center. There is a ramp leading into the pool that allows easy access for our handicap patrons. The pool has both a shallow area with a slide as well as a deep end. There are seven 25-yard lanes available for lap swimmers and a covered picnic area with tables. Red Cross certified Youth swim lessons are offered as well as contracted aqua fitness classes during our pool season. The pool is open to all authorized MWR patrons including active duty and their families, military retirees and their families, and DoD civilian employees. There is a $5 fee per guest of authorized ID card holders.
Monday-Friday
0600-0800 Lap swimming only
0800-1800 Recreational and Lap Swimming
***** Fridays close at 1600 *****
Saturday/Sunday/Holidays:
1000-1600 Recreational Swimming
Be advised that our Florida weather requires us to close the pool as a precautionary measure if we receive a notification of a severe weather warning. This action is required in accordance with base policy. We are sorry for any inconvenience this may cause.
Download the latest Fitness Schedule which includes Water Fitness!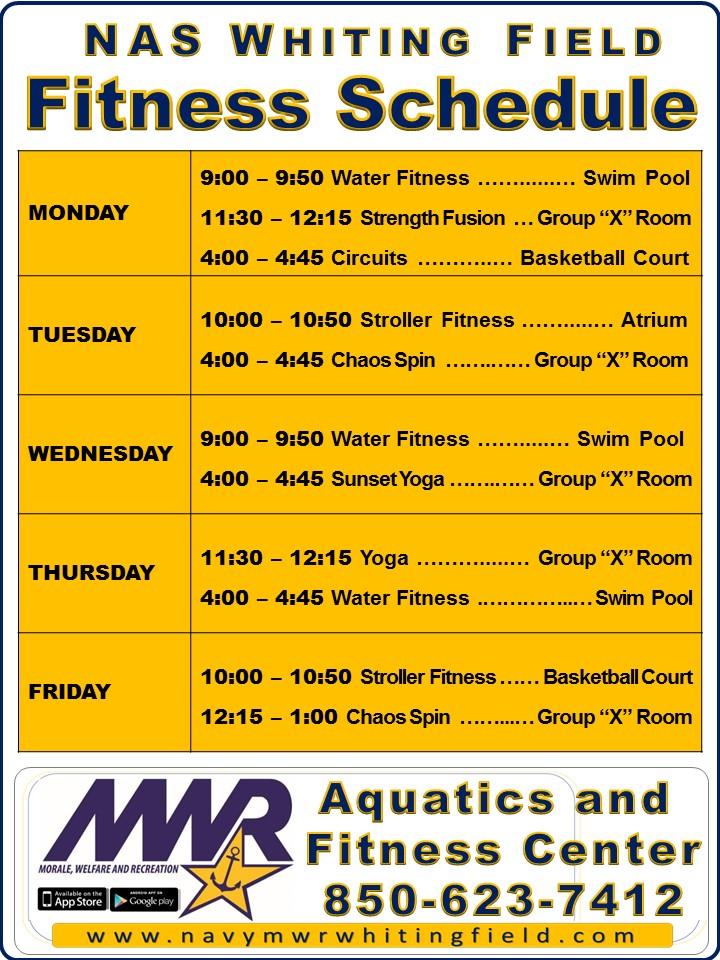 At this time we are not able to offer swim lessons because we currently do not have a certified Water Safety Instructor on staff. We are currently recruiting for an employee with this qualification. For information on current swim classes in the area please contact NAS Pensacola MWR https://www.navymwrpensacola.com/programs/3f6ae078-64c1-40e2-abb7-e53be3cf6e53 (see attached flyer) or follow the link to the University of West Florida's swim lesson schedule: https://uwf.edu/offices/recreation-and-sports-services/aquatics/swim-lessons-schedule/
In addition, remember that Whiting Park Outdoor Recreation Area . http://www.navymwrwhitingfield.com/programs/b5da2722-8d35-4d0f-a117-d47d363e2053, located right in downtown Milton on the Blackwater River, is truly the best swimmin' hole around! There's a brand new buoyed "Wading Area", kids playground equipment, horse shoes, volleyball, basketball court, fishing pier, pavilions with bbq's, and lots of watercraft to use too.
For a bit of adventure, Tickets & Travel "http://www.navymwrwhitingfield.com/programs/bfc5a10e-f45a-458a-8f8a-627a59316afc" can provide discount tickets to waterparks near and far, from Big Kahuna's in Destin to the brand new Volcano Mountain at Universal Orlando.
Thank you for your understanding with our challenge this season and we hope you take advantage of all the opportunities for alternative water bound recreation available through your MWR.