===== ===== =====
Three Minutes is all it takes ... South Field Snack Bar Feedback: "https://www.surveymonkey.com/r/FoodBeverageWhitingField".
===== ===== =====
Located inside the South Field Squadron Building, this snack bar offers a little bit of everything! We open at 0600 and have many delicious breakfast sandwiches, burritos and omelets to choose from. In a hurry? We make fresh salads daily that are ready when you need them! Add to that a bowl of our homemade soups or chili and you have a quick meal on the go! Sit down for lunch and have a burger, philly cheese steak, chicken strips, or wraps with some hot fries that are prepared especially for you
See our menu in the "Downloads" section.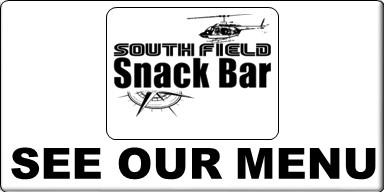 GoWifi is available at this location!
*Click here for details about GoWifi.*