===== ===== =====
Three Minutes is all it takes ... Tower Cafe Feedback: "https://www.surveymonkey.com/r/FoodBeverageWhitingField".
===== ===== =====
The Tower Books & Cafe is the perfect place to meet up with friends, relax or study! In our Starbuck's coffee shop you can enjoy your favorite coffee beverage whether it's hot, iced, or frozen! Top it off with one of our gourmet pastries, muffins or biscuits and you can't go wrong! Our coffee shop offers comfortable areas to study in; you can take your pick of couches, armchairs, or a table if you need to spread your work out. Come do your presentation on our wall-to-wall chalk board or use one of the many erasable boards that are available. We provide Wi-Fi so internet access is easy. Come in, relax, and stay a while!
Visit the library side of the facility while you're here! For more information, please visit the website for the library!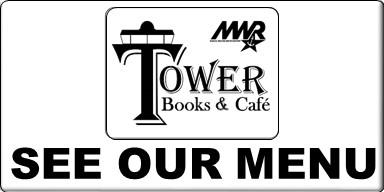 GoWifi is available at this location!