Airdales Recreation Center
===== ===== =====
Airdales is a convenient hub for all Community Recreation, Liberty Program Services and Uptown Pizza Express -
Outdoor Equipment Rental, the Driving Range, Wiggley Field Dog Park, Clear Creek RV Park and our Family Programs are also administered from here.
The 11,000 square foot facility houses: Interlinked Big Boy Game Boxes, Massage Chairs, Billiards, ShuffleBoard, Foosball, and Air Hockey games. There's a huge climbing jungle for kids and a massive movie room with stadium seating and Bose surround sound. Beautifully appointed furnishings attop durable carpeting are surrounded in a palette of pleasing colors which adorn the walls. A local graffiti artist was commissioned who created custom splashey art for an incredible focal point. Our dining location Uptown Pizza Express satisfies the appetites of the installation in it's well appointed kitchen.
All of this and a state of the art multi-purpose room befit with collaboration and brainstorming tools along with high speed wi-fi and teleconference capabilities.

AIRDALES IS HOME TO THESE INCREDIBLE PROGRAMS:




Community recreation tickets and travel
Phone: 850-623-7032

Navy Community Recreation's Tickets and Travel Office offers a variety of leisure travel services including discount ticket sales to various attractions throughout the country and local attractions. We also offer lodging, cruises, bus tours, airfare packages all over the world, and other special services.
Active Duty Military, Retired, Dependents, DoD civilians and all MWR authorized patrons can purchase tickets.
All prices are inclusive of our surcharge. VISA, MasterCard, American Express and Discover are accepted.
liberty center
Phone: 850-623-7274


The Liberty Program is designed to provide relaxation and entertainment while you are away from home. Our facility is open to single, unaccompanied active duty service members, geared toward the 18-25 year old demographic. We are an alcohol and tobacco-free organization and do not tolerate either in our facilities.
Our Liberty Program partners with our other MWR programs to provide activities as well as excursions to local events and even overnight adventures too.

UPTOWN PIZZA EXPRESS
Phone: 850-623-7521

Located inside Airdales Recreation Center, Uptown Pizza Express features a tasty selection of pizzas and wings along with sandwiches and grab 'n' go's.
DRIVING RANGE
Phone: 850-623-7032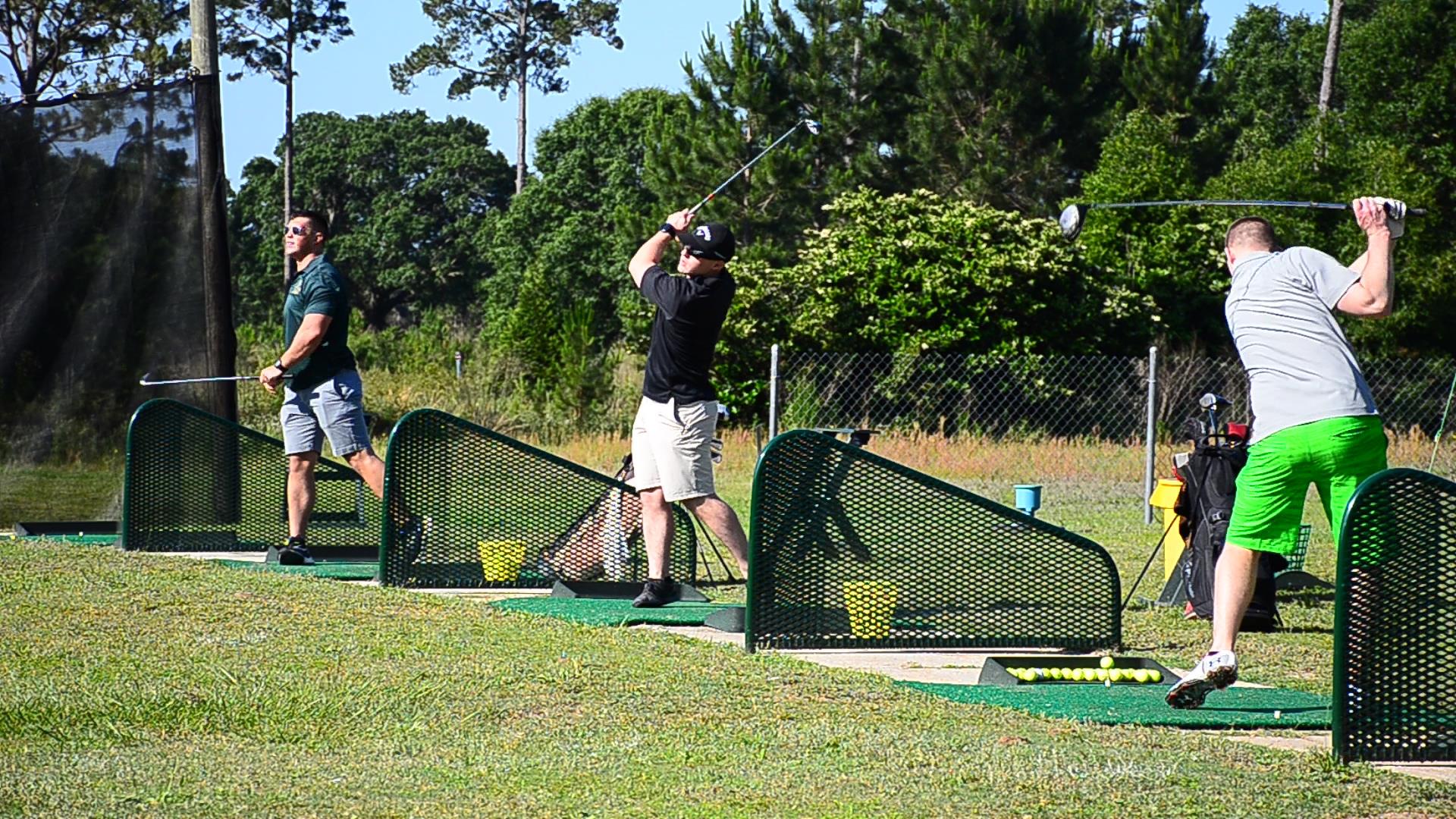 Our driving range features grass tees, mat hitting surfaces, and a separate area for chipping practice. Rental Clubs are available at Community Recreation and the Fitness Center. The range is open every day from sunrise to sunset. Range balls are available from the onsite dispenser using our tokens. Dispenser vends approximately 50 balls per token. Purchase $4.00 tokens at the Community Recreation Desk, Fitness Center, North Field Snack Bars and at the Tower Cafe.

outdoor recreation equipment rental
Phone: 850-623-7032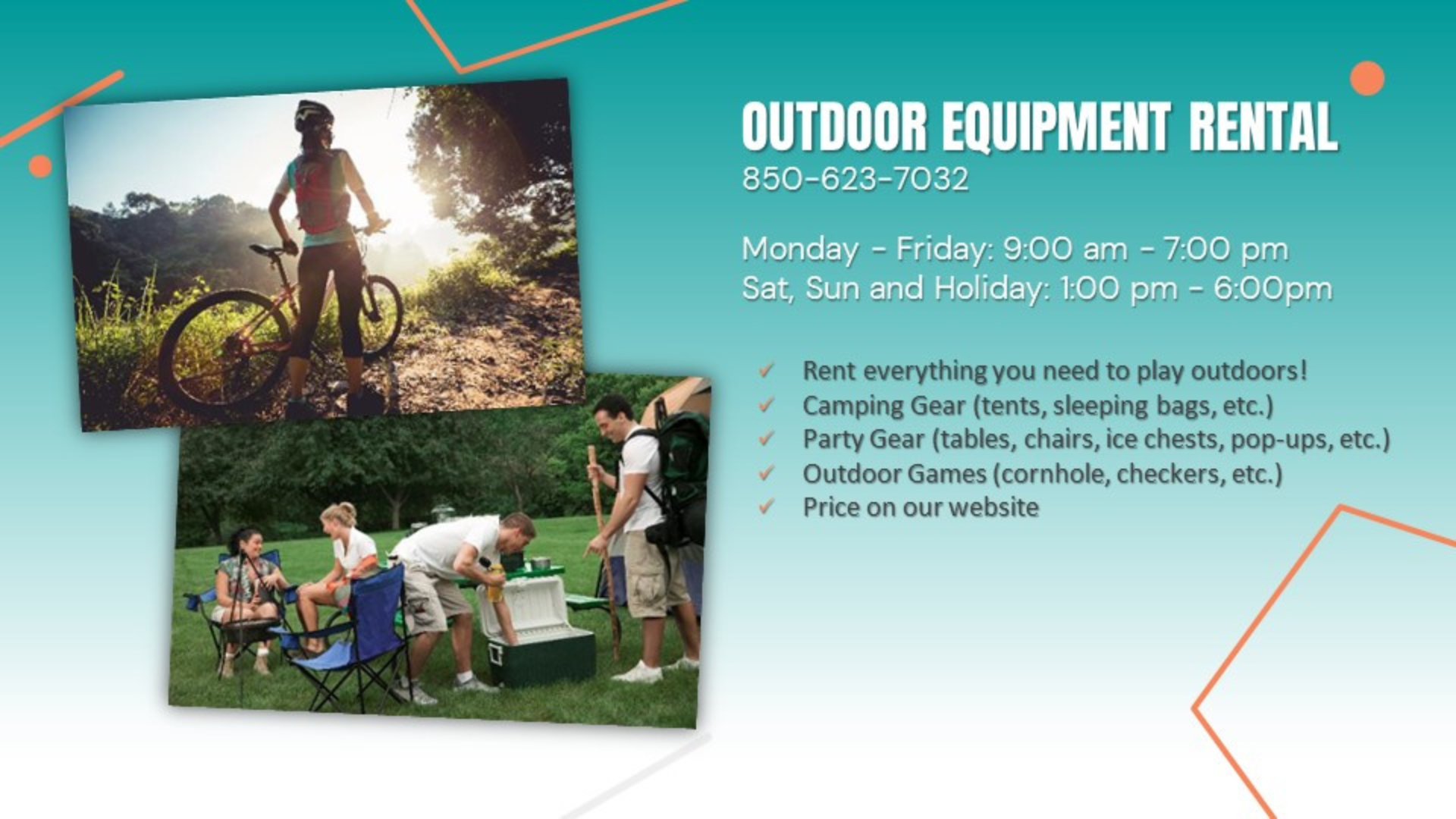 Activate your life through recreational fun! Get out and enjoy the Sunshine State with our variety of equipment and rentals. You'll find everything you need to host the perfect party (pavilions, canopies, tables, chairs, grills, coolers and more!), or plan a do-it-yourself adventure with our bikes, camping gear, and more!
DOWNLOAD OUR RENTAL ITEMS PRICE LIST!

Wiggley field dog park
Phone: 850-623-7032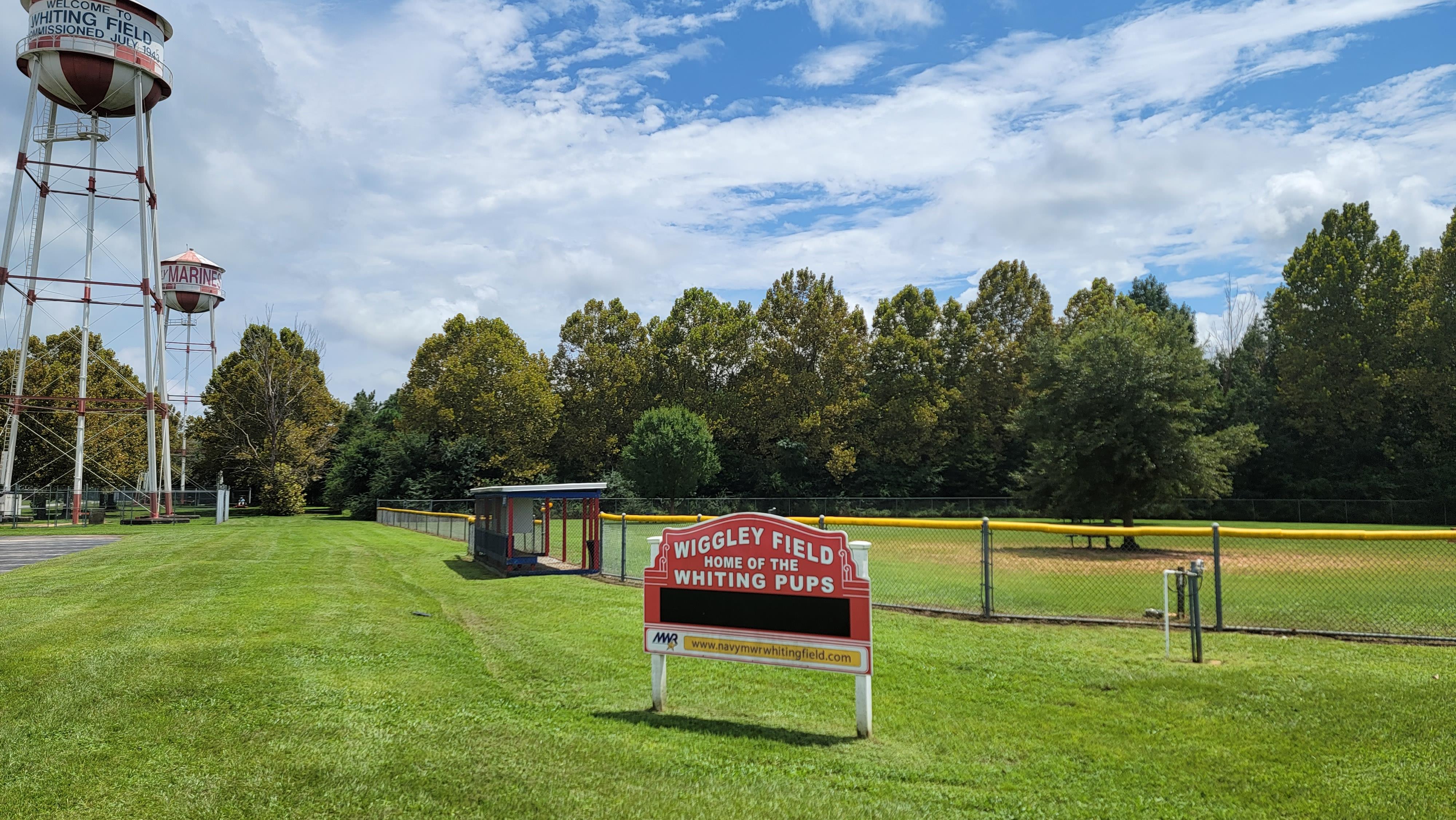 Wiggley Field is an exercise area built especially for our k-9 friends. We've converted the softball field under the water towers into a safe fenced in area to allow your pets a friendly place to play.

CLEAR CREEK RV PARK
Phone: 850-623-7032



Located just outside the West Gate of NAS Whiting Field, we offer 10 sites for RV parking and hook-up. Electric, water and sewer are provided. Our on-site bath house and laundry facility are both handicap accessible